Why Airbnb's extremely profitable IPO was an underdog
In early 2020, Airbnb management announced that they would like to reduce sideline activities and focus on the company's core strength, namely short-term mid and budget rents, to cope with slower revenue growth. This was just before COVID-19 halted the travel and leisure industry.
Against this bleak backdrop, it came as a surprise when the company's CEO Brian Chesky announced that the online rental company would go public in December 2020 – and on December 10th, exactly.
The shares were originally priced between $ 45 and $ 50 (£ 34 and £ 38) per share. That rose to $ 55 to $ 60 the day before the listing. At the time of listing, the final share price was $ 68. The initial public offering (IPO) is expected to add up to $ 3 billion in new money to the business and, if successful, add nearly $ 42 billion in value to Airbnb.
According to Airbnb at the US Securities and Exchange Commission, plans are in place for the company to raise additional capital to fund future growth.
Typically, companies prefer going public during a period of sustained economic growth to capitalize on confidence in the market. You avoid going public during economic downturns and catastrophic events: like the First and Second World Wars, the great recession or a pandemic. Airbnb's decision to go public was nothing short of an outsider. And its timing has attracted extraordinary attention.
Airbnb's IPO decision in a sea of ​​business weaknesses
However, Airbnb had a few strategic advantages, the first of which was its technology-based business model. Unlike other leisure and vacation companies like hotels and airlines, Airbnb doesn't have to spend a lot of money on the costs associated with maintaining its fixed assets. Instead, Airbnb can successfully pass the risk of such strict payment obligations on to its "hosts" – the owners. It then keeps the profitable parts of the business to itself and has enough flexibility to deal with systematic disruptions like Covid-19.
The company's second perk is that it has become a household name in the world of travel, building a strong brand and a loyal customer base. If we compare sales in the first nine months of the year for 2019 and 2020, they all saw a decline, but the decline was the smallest (in percent) for Airbnb of any of its close competitors like booking.com and Expedia.
In addition to competitive status, ongoing market changes have also created confidence in Airbnb's IPO. The markets around the world revived towards the end of 2020. Southeast Asian, African, and Latin American travel destinations reopened when vaccines for COVID-19 were announced. This boosted confidence and hope for a return from business as usual and was reflected in the immediate appreciation of stocks in the travel industry. Easyjet and Jet2 stocks rose more than 40%.
Hopes for COVID-19 vaccines added confidence in the markets. Shuttershock, CC BY
Airbnb also managed to calm its critics and avoid tightening local housing regulators. However, undesirable local regulatory responses are not specific to Airbnb. Amazon, Facebook, and Uber all had their own stories. Given the combined bargaining power of the Silicon Valley giants, there is only a limited likelihood that systematic changes to regulations around the world will be made in the near future.
COVID-19 and Airbnb
The travel and leisure industries in the UK have been the main victims of the pandemic. In the case of airlines, hotels and holiday homes, sources of income were shut down almost overnight. The travel industry had already said goodbye to STA Travel, an agency for low-cost flights. The latest UK travel statistics suggest that the impact of the pandemic on the travel industry could result in further business falls. The United Nations World Tourism Organization (UNWTO) estimates that the travel and tourism sector has lost export revenues of $ 910 to $ 1.2 trillion.
Because Airbnb enabled peer-to-peer consumption of travel accommodations or experiences, it also suffered from a reasonable financial burden. In May 2020, the company decided to lay off 1,900 people – nearly a quarter of its workforce – and its market valuation fell from $ 31 billion in 2017 to $ 18 billion in April 2020. With a market value of $ 60 billion – Minutes into trading on December 10th, it appears poised for rapid growth.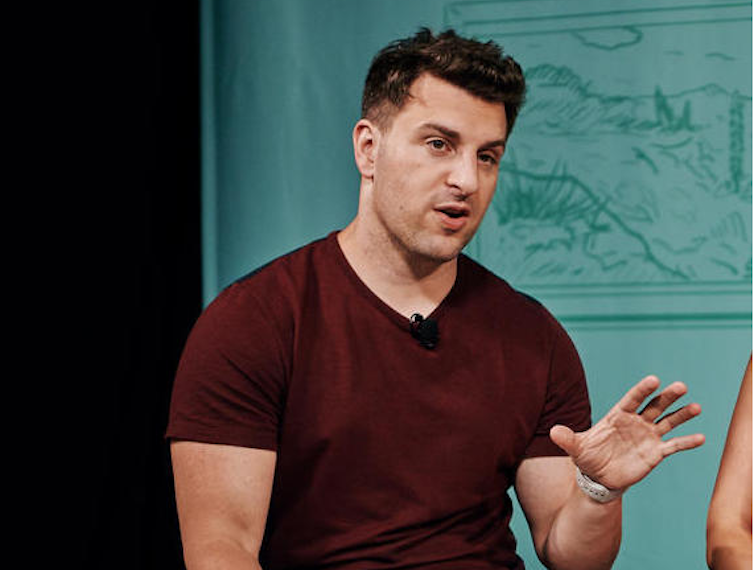 Bullish Approach: Brian Chesky, Co-Founder and CEO of Airbnb, February 2020. Wikimedia Commons, CC BY-NC-SA
Hope for "normal"
The travel and tourism industry is hoping for a much faster recovery than other market segments. There are two reasons for this: First, after a very long blocking period, there is a psychological demand for travel and vacation.
Second, the availability of cash. A significant part of the labor force saved a large part of their income by not spending on commuting and leisure expenses.
Airbnb's IPO appears boldly positioned right at the beginning of Europe's recovery, and improving market conditions have fueled the share price at the last minute.
This successful initial public offering has raised the money necessary to fuel its relentless growth, but beyond that it has demonstrated the quality of its strategic leadership. In addition, the company has expanded its dominant position in the online leisure and travel business and further expanded its competitive advantage in the coming years. Of course, we have to remember that these are only predictions, and only time will tell.
For the markets in general, this IPO is a turning point move that marks the transition to an economic recovery based on the hope of a return to "normal" life.

This article by Olga Cam, Lecturer in Accounting at the University of Sheffield and Mohammad Rajjaque, Lecturer in Accounting and Finance at the University of Sheffield, is republished by The Conversation under a Creative Commons license. Read the original article.
Read On: Now is the time to hire a Microsoft Azure Cloud Professional – and these certifications can help